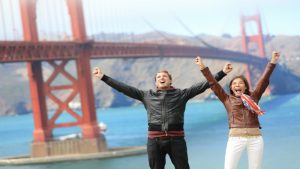 When you are looking for family-friendly things to do around Chicago, consider an observation deck that allows you to get a panoramic view of the city and Lake Michigan. We are proud to offer the best observation deck near Chicago. Located on the north end of the city close to the Magnificent Mile, Lincoln Park Zoo, Navy Pier and the Chicago campus of Northwestern University, we are easy to get to on many of the CTA train and bus lines. Our observation deck is also close to several public parking garages if you drove into the city and need a place to park.
We have updated our observation deck to include dimensional windows. You can get a bird's eye view by leaning into the angled glass and holding onto the handles. These angled windows make you feel as if you are flying above the city. If leaning into the angled windows is not for you, that is okay. We also have traditional windows running from the floor to the ceiling so that you can enjoy an unimpeded view of the Chicago metro area.
You may wish to visit us during the daytime and evening hours. During the day, you can see for miles. Take a look at Lake Michigan and its seemingly endless miles of blue water. On a clear day, you can see all the way to Indiana and its sand dunes. At night, take in the bright lights of the buildings and cars in the city.
When you want to visit the best observation deck near Chicago, visit us at 360 Chicago. Our observation deck is open every day of the week for your entire family to visit. To learn more, check on our operating hours or take a virtual tour, visit us online at 360Chicago.com any time.