10 Good Reasons For a Holiday in France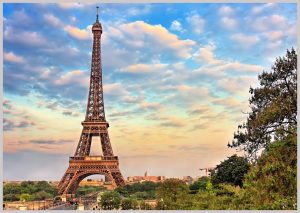 Whether you want a getaway trip on your own, or if you are looking for a couples or family holiday, booking flights to France is a wonderful way to experience a new culture, country, and way of life.
It may be surprising to find out how reasonably priced flights to France are from Australia. By being flexible in when you travel and by booking the flight online through a top discount travel provider, it is possible to plan your next vacation to this remarkable country.
When you book flights to France, it is common to fly into Charles de Gaulle Airport in Paris or into fly to Paris Orly Airport, which is also an international airport. Both are very close to the city, with an easy cab or shuttle ride to hotels and areas in and around Paris.
If you are still not sure if France is the right vacation destination, here are 10 reasons to plan your next trip to the region:
Gourmet food – for foodies of all types, France offers amazing types of cuisine from classic and sophisticated French dining to rustic, natural food found in abundance in the countryside.
Wine – famous for regional wines, France is a great place to travel to take vineyard tours and learn about winemaking, the culture of wine and more about the process from growing grapes to marketing.
Fashion – it is hard to think of another country where fashion plays an important role. Expect to see boutiques, shows, and events throughout the year.
Skiing – winter sports enthusiast will love the skiing in the mountains through the country.
History – throughout France visitors can tour historic castles, churches and landmarks.
Art – art galleries and art museums are found in abundance in France. For those who love classic or modern art, there is something for everyone to enjoy.
Hiking an trekking – the countryside of France offer some top hiking, trekking, and horseback riding adventures
Villages – plan to stop in some of the smaller villages for a true sample of French life.
Cultural Events – from theatre to opera and everything in between France offers a top selection.
Beaches – the beaches of St. Tropez and Cannes are famous, but there are also beaches that are more rustic and less developed, providing lots of variety.